Who "Sets" Current Coin Prices?

Now that you have been exposed to the basic supply and demand forces influencing price movements of rare and valuable U.S. coins, you're probably curious to know who interprets these signals daily and publishes current price estimation reports.  
For many, the folks who perform this function are seemingly "setting" the prices of coins on today's market. In a literal sense that's not true, but they do act as a starting point throughout the industry for assessing about how much a coin should sell for at the wholesale and/or retail level at any given moment.  It's a crucially important role, make no mistake about it.
There is not a singular "Go-to" source for watching the latest coin price fluctuations.  However, there are a small number of firms, that in the course of their everyday business, are in a position to monitor the industry's pulse as they facilitate huge chunks of the buying and selling activity taking place from coast to coast and worldwide.  
Coin dealers and serious collectors follow their analyses closely.  Understanding the current true market value of a rare coin is essential to survival in this occupation.
Other outfits, who earn their meal money as information brokers, continuously mine trend data, scrutinize the numbers, and issue coin value reports based on facts and educated haunches.
Let's meet a few of the key players…
Coin Dealer Newsletter
The Coin Dealer Newsletter (CDN) has been around since 1963. Longtime hobbyists may recall as kids seeing their flagship publication, The Greysheet, omnipresent at family coin shops and trade shows.
The Greysheet is best known for providing wholesale coin price estimates, reported as BID levels.  Bid is the approximated sum a dealer might spend to acquire a desired coin from another dealer.
CDN has a sister report called the CPG Coin & Currency Market Review, and it features estimated retail prices, called the ASK level in the vernacular of the industry.  It is the approximated sum a dealer might ask for when offering a particular coin or paper bill for sale to the public.  CPG is short for Collectors Price Guide.
They also own the CDN Exchange (CDNX), where coin dealers, big and small, buy and sell coins to each other by the thousands.  This provides CDN a front-row seat when the Law of Supply & Demand pushes coin prices higher or lower.

CDN not only utilizes the data gleaned from CDNX activity to estimate current coin prices for their clients, but they also monitor BID and ASK levels in other popular electronic venues.  Coin auction results frequently feed fresh data into their computers.  On top of that, they gather input from a vast network of professionals on the frontlines of the coin marketplace to find out what's hot and what's not.
The veteran staff at CDN digests all these numbers and generate their reports, which are published monthly or quarterly. More importantly, subscribers can tap into their reports online, which are updated multiple times daily.(2)
CDN remains one of the industry leaders in providing accurate and timely price estimates to business insiders, as well as to the general public.

Certified Coin Exchange
Certified Coin Exchange (CCE) has been facilitating online dealer-to-dealer transactions since 1990, although their roots trace back to a 1960s teletype system.
CCE has hundreds of dealer members from all over actively participating in the exchange.  On any given day, there are hundreds of thousands of open Bid and Ask listings on CCE.  They claim to be the largest and most comprehensive network of its kind.
On top of that, they operate the Collectors Corner, where member dealers advertise their coins to collectors at retail prices. Check it out and you'll see at any point in time there may be 100,000 coins for sale with a cumulative value approaching $200 million.
All this activity occurring inside their network gives CCE a prime vantage point to measure coin market sentiments.  If there is any coin or group of coins surging or faltering, they will be among the first to know.  
CCE augments all this real-time data with auction sales, population reports, and other inputs to calculate current coin value estimates. Dealers trust CCE's numbers and plan their business strategy around them.  What's more, CCE prices are distributed to various coin valuation companies.(3)
In short, a big chunk of the numismatic community depends on CCE to monitor coin transactions and report back to everyone else where coin prices are today.

Heritage Auctions
Heritage Auctions is a big-league handler of U.S. coins, conducting robust auctions and other trading activities at a fast pace. Given the voluminous raw data they accumulate, Heritage is advantageously perched to observe firsthand wholesale and retail trends.
Utilizing their extensive database, while taking notes of recent coin market events elsewhere, they produce the Heritage Value Index, designed to provide a retail range on what NGC and PCGS certified coins might be currently worth.(4) 
Many coin experts rely on the Heritage Value Index to help stay on top of market trends.  Anyone can access this tool at no charge, although prior registration with Heritage is required.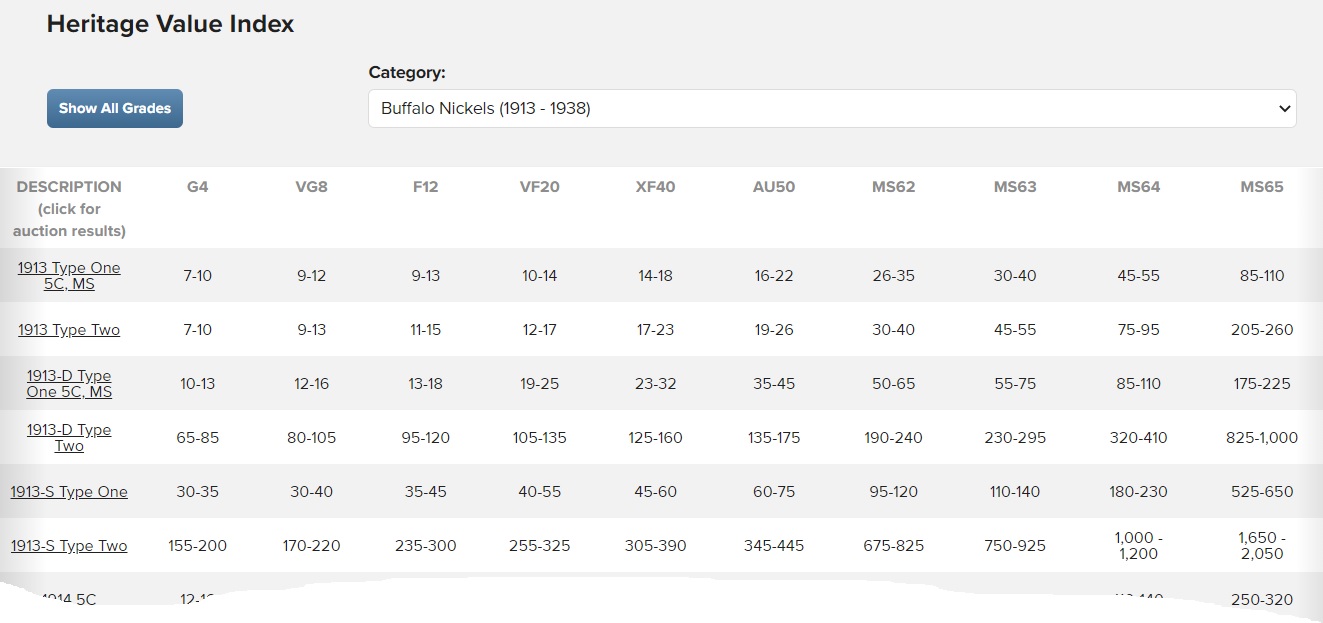 PCGS and NGC
The leading coin grading services, PCGS and NGC, also do original research and publish estimated asking prices (i.e., retail) for coins certified by their respective services.
Auction results, coin show bustle, and other verified sales are all important inputs for their calculation methods.  Advertised dealer pricing, as well as input from industry pros and advanced collectors are also factored in.(5)(6)
The PCGS and NGC price guides are regularly consulted by the "Movers and Shakers" of the business as they try to pinpoint the market worth of any rare and valuable coin under consideration.
Both the PCGS and NGC price guides are available online for free.
Coin World
Coin World (CW) began issuing a weekly publication in 1960. From there, it rapidly rose to become one of the most authoritative information outlets for rank-and-file hobbyists, and remains so today.
They publish a retail value guide called Coin World's Coin Values, listing current estimated values of more than 65,000 U.S. coins.
The sources used to compile CW's guide in many ways resemble those used by the companies previously mentioned: public auctions, fixed-price lists, and other verified transactions; IOW, they use any legit info their editors can unearth.(7)
Once a month, this report is published in hard copy format.  However, subscribers can log in online at any time to review the most recent updates.
Because of their close bond to the hobby's participant base, CW is the destination of choice for everyday collectors needing current coin value estimates.  
[Disclosure:  I have been a Coin World subscriber for decades.  It's been so long I can't remember exactly when I started subscribing!]
Experienced users of these cutting-edge valuation services understand the prices listed are approximate and do not speak with absolute certainty.  The best the price guide publications can do is to give us a ballpark estimate of a coin's value; they are just a starting point for assessing how much a coin is worth.
For example, if a Coin World listing shows a coin at $100 in Good-4 condition, a collector could probably find an example for sale in a range from $75 to $125 (it usually pays to shop around!). However, it's unlikely to find the exact same coin available for under $50 or above $200.
The guide prices are for problem-free, properly graded coins.  Coins that are cleaned, damaged, or altered are almost always worth less than what is listed.  On the other hand, a coin that technically meets the qualification of a certain grade but possess above average eye appeal can often bring a higher price.  You can learn more about the importance of eye appeal in the What is Coin Grading section.
This list is not exhaustive.  There are a few other companies who similarly gather raw data for the purpose of generating current price estimates to benefit the rare coin industry.  The goal here is not to list all of them, but rather explain how the approximations are derived and who some of the best-known pacesetters are. 

---
Quick Links to "What Makes a Coin Valuable?" Chapters...

Use the links directly below to navigate the "What Makes a Coin Valuable?" section:  
All the chapters referenced above are accessible from any other chapter in this section.  Thus, no need to return to this Introductory page to link to other chapters.
---
1.  Q. David Bowers.  The History of United States Coinage.  Los Angeles, CA.  Bowers & Ruddy Galleries, Inc.  1979.

5.  PCGS Price Guide.
6.  NGC Price Guide.