Best Places to Buy Coins

No in-depth analysis of numismatic rarities is complete without some mention of how to locate the best places to buy coins. 
Owning rare coins of extraordinary potential is a pleasure, but unless you've inherited a collection or got lucky with a metal detector, you'll most likely require a seller.  Beware, some sellers are better than others.  When doing business with a bad seller, many a prospective rare coin collector has fallen off a cliff, never to return.

Also, if gain/loss percentages are your priority, it's important to remember this is a long-range proposition. Even the finest coins in U.S. numismatics do not rise in value continuously, so a few words of encouragement are offered.
Let's dive into it…
Finding a Good Coin Dealer
One of the best places to buy coins is through a coin dealer.  Okay Captain Obvious, so how do you find a good (as in competent and honest) coin dealer?
With the internet, dealers are easy to find, no matter if they're close by or far away.  The Dealer Director published and updated annually by Coin World is a fairly comprehensive, excellent tool to help you cover a lot of ground quickly because it allows searches by name, geographic location, or category.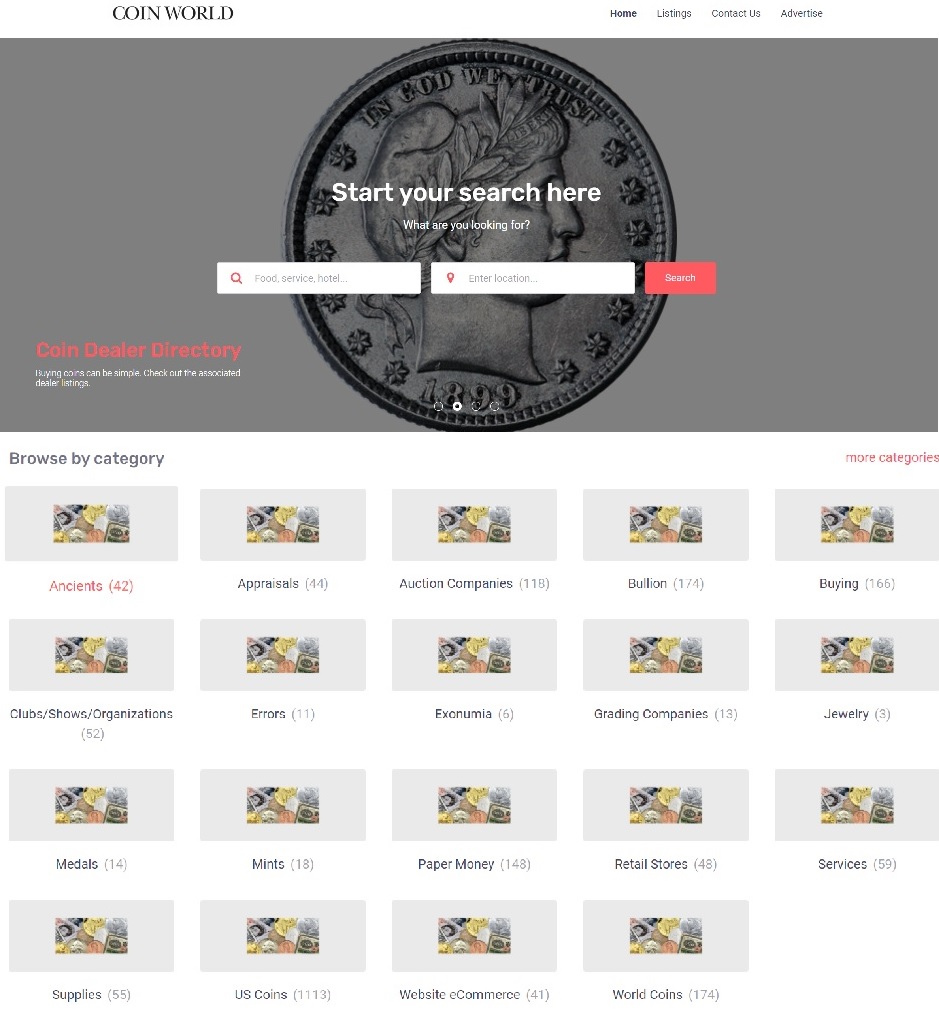 Once you've found a prospective dealer, be inquisitive, but don't worry about offending anyone with too many questions. Legitimate dealers expect to field a lot of queries: for them, it's how they build their business. Those with insufficient knowledge or ulterior motives will be weeded out by asking the questions below. Here's what you need to find out:

1.  How long has the dealer been in business?  Experienced coin dealers understand coin market conditions and can use this knowledge to benefit you.  What's more, someone who has been in the coin business for a long time demonstrates a willingness to work hard and treat customers fairly, leading to success for both parties.  On the other hand, anyone looking for "shortcuts" usually doesn't stay in one place very long.  Allow some slack for a new dealer just starting out, but continue scrutinizing.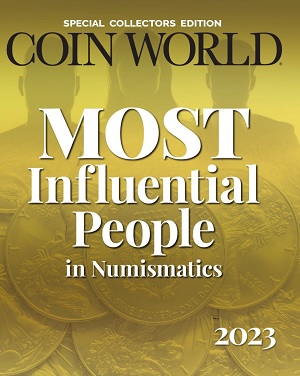 2.  Is the dealer affiliated with any professional trade organizations? Professional affiliations are outward signs the dealer is willing to obey certain industry guidelines, display a level of competency, is subject to oversight scrutiny, and maintains a code of ethics.  Here are some headliner groups:
The Professional Numismatists Guild (PNG) subjects prospective member dealers to a background check and requires them to have at least five years of experience as a professional numismatist and maintain a CPA-confirmed net worth of $500K. They must agree to binding arbitration to settle disputes and are expelled for misbehavior.  PNG membership search.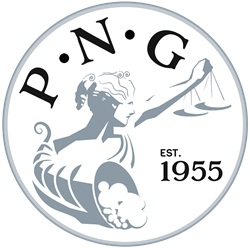 Dealers wishing to provide submittal services for the Professional Coin Grading Service (PCGS) must first meet stringent requirements.  It is through a network of authorized dealers that coins are sent to PCGS for grading.  To be awarded this distinction, the applicant and key employees must not have been convicted of a felony in the past five years, must have been a full-time coin dealer for at least three years, must have capitalization of $100,000 or more including inventory, provide a minimum of three credit references, and supply a minimum of three PCGS authorized dealer references.  PCGS dealer search.

The other major coin grading service, Numismatic Guaranty Company (NGC), also has a network of authorized dealers who funnel coins to them for grading.  To qualify, NGC requires dealers to be in the business full-time with at least one year of professional experience. Four numismatic references are necessary.  Though not as picky as PCGS, there are not many scofflaws hanging out for long in the NGC network.  NGC dealer search.

A relatively small number of reputable upper-crust dealers are participants in the Certified Acceptance Corporation (CAC) submission network (What is CAC?).  These dealers are carefully scrutinized before being accepted to the network and rate among the most trustworthy business partners the industry has to offer.  Many of the most beautiful and rarest coins in U.S. numismatics pass through their hands.  CAC dealer search.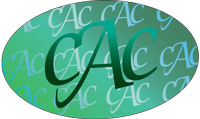 A dealer's affiliation with one or more of these professional organizations is likely a signpost of high character and competency. However, it's not an automatic red flag if a name you're searching for doesn't show up in any of these membership rosters.  There are many good, honest dealers who are too small to qualify for some key numismatic fraternities.  It does mean, however, continued investigative diligence is in order.

3.  Does the dealer belong to one of the major coin dealer exchanges?  The exchanges are where dealers do business with one another, finding coins wanted by their customers.  The best exchanges require established businesses and references to join.  Here's another thing:  It cost thousands annually in fees to participate in these exchanges, so there's another indication members are unlikely to be fly-by-night, quick strike sharks.  Two of the most active exchanges are Coin Dealer Newsletter Exchange (CDNX) and Certified Coin Exchange (CCE).  The CDNX does not have a dealer lookup, but allows member dealers to display the CDNX logo in their inventory listings.  CCE dealer search.


4.  One of the fastest growing numismatic networks today is called Roundtable Trading.  It is a dealer-to-dealer trading platform operating on social media.
Dealers aspiring to join the Roundtable must be peer-nominated and vetted.  No one gets in without positive feedback.  Additionally, if a dispute arises, a team of moderators will investigate and act swiftly.
Small coin shops to major dealers are active on Roundtable.   That's a good thing because sometimes excellent dealers are too small to participate other numismatic organizations.
Social media is a driving force in today's culture especially with the younger set, so it should come as no surprise nearly half of Roundtable's membership is between the ages of 18 and 40 and is more diverse than what you might see at a coin show.  Roundtable Dealer Search.

5.  What do coin club members have to say?  Coin clubs are not as prevalent as they were decades ago, but there are still hundreds of them around.  If there is a club in the vicinity of a dealer you're considering doing business with, there is a decent chance someone in the club has first-hand information about the company.  The opinions of frontline collectors are the gold standard of the hobby.  You can find coin clubs through Google, but the ANA maintains a searchable directory of coin clubs.

6.  Does the Better Business Bureau (BBB) have anything on the dealer?  When customers feel jilted, they often go to the BBB to lodge a public complaint as a warning to others. The vast majority of dealers listed in the BBB have good ratings, but there are a few stinkers with unhappy customers telling their stories. The BBB offers an accused company an opportunity to defend itself, but if no defense is offered, especially avoid that dealer like the plague.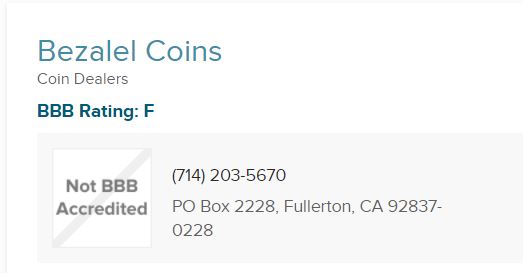 7.  What kind of service does the dealer offer after the sale is made?  Does he offer advice and updates on current market conditions?  Will he call you if he has another customer interested in purchasing a coin you own?  Any busy dealer willing to take time to expand your numismatic knowledge is head-and-shoulders above his competition.  Mark that down as a BIG plus!
If you've found a dealer who gives off good vibes but you are hesitating, go ahead and make a few small purchases from him.  If you're satisfied with the customer service and received the quality of coins commensurate with how much you paid for them, try stepping it up a bit next time.  Soon, without risking too much, you'll know if the dealer is worthy of your continued patronage.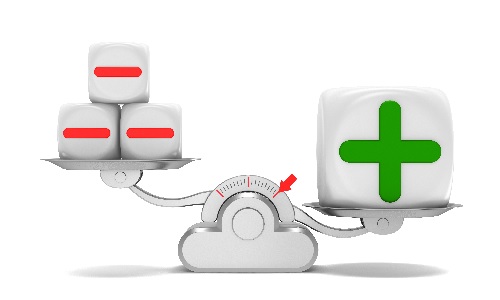 8.  Does the dealer have a brick-and-mortar home base?  If the dealer has maintained an impressive storefront operation for years, that's a grand slam indicator in his favor.  However, this question is not as important as it used to be, thanks to all the Internet retailing.  A very honorable dealer doing millions a year in rare coin sales may be operating from a facility not open to retail foot traffic.  On the other hand, be wary of traveling "dealers" who rent hotel meeting rooms.

Coin dealers are at the center of the coin business. A bad rap is hard to shake, but a good reputation is difficult to build, and is usually well deserved.  Unfortunately, some up-and-coming coin collectors have been known to forsake the hobby because of a bad experience with a shark-like dealer. 
As a collector, having a skilled expert on your team is a major advantage. Getting advice from a trustworthy and experienced coin professional can help you avoid quicksand while illuminating a path toward a rewarding collecting strategy.
If you follow the advice outlined above, you should be able to find a capable, honest dealer and establish a friendly, mutually beneficial relationship that will factor heavily in your enjoyment of coins for years to come.

The Big Fish in the Sea

I can recommend several "Big Fish" U.S. coin dealers/auctioneers who attract customers worldwide. I've known about them forever and rate them as first-class, large volume dealers. Whether you're spending $100, $100,000, or $1,000,000, you can usually count on a large selection of properly described coins and fair, friendly (but not necessarily fast) treatment.
By no means are these the only premier guys in the business, but they are some of the best. I am not compensated to say nice things about them, so you can rest assured you're getting my honest opinion.
As mentioned, these are not the only reputable major dealers around.  However, if you have no idea where to safely purchase the rarities from Key Date Coin List, these companies are excellent places to start.
eBay
Collectors and dealers of all sizes and shapes are nowadays buying and selling coins on eBay. Activity there has been brisk for decades, with no retreat in sight.  In fact, eBay has become one of the most important transaction venues for coin enthusiasts in our modern age of connectivity.
It's not unusual to see more than one million U.S. coin listings for sale on any given day on eBay. In a universe of this size, there are a lot more than just routine, common date coins up for grabs.
On eBay, you'll find tons of interesting, tough-to-find coins, with a better overall selection than just about anywhere else on earth. This includes many of the recommendations on the Key Date Coin List.  You can bet collectors of generations past could never have dreamed of something like this!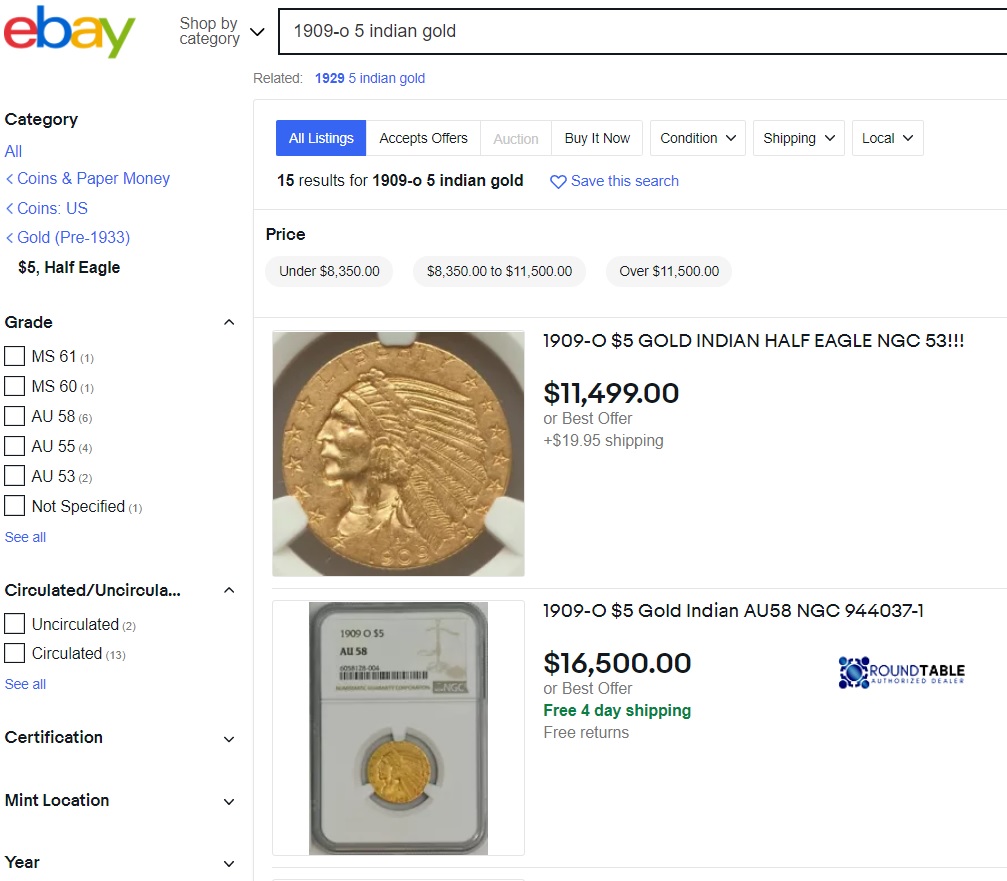 eBay has flourished since its inception in 1995. What makes this possible is the seller feedback rating system.

Coin dealers who accurately describe their merchandise and provide good customer service are rewarded with a high seller rating and feedback score. For example, if a dealer has feedback score of 99.8%, it means 99.8% of collectors who provided feedback for them reported a positive experience.  There are always people who will complain about something no matter what, so a 100% rating is very difficult to attain.
Slimy sellers who make a habit of cheating their customers are quickly exposed and banished from eBay.   Under no circumstances should you purchase an expensive coin from an unproven seller!!!
On the other hand, someone rated highly with thousands of happy buyers over a period of many years is deserving of your patronage.  Collectors should have no trouble finding trustworthy dealers by evaluating their rating and feedback.
Here is an example of a feedback page for a dealer selling quality coins at a fair price while providing exceptional customer service: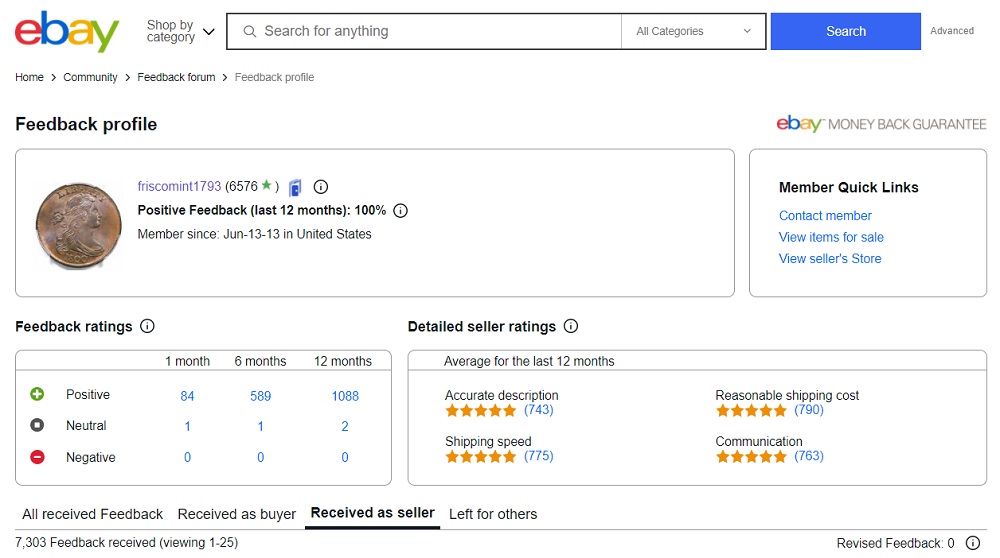 Why am I promoting eBay? At the risk of sounding like a carnival barker, there are a couple of reasons why I've got the eBay megaphone:

It is an excellent place to locate coins offered by reputable dealers that are fairly priced and grade certified by PCGS or NGC.  I want you to be as successful as possible in attaining your numismatic objectives and the eBay venue is a valid pathway.
Drum roll please…. I actually may get paid a small commission if you link to eBay from this site and buy something (doesn't even have to be coins). As someone who has been a grass roots coin hobbyist for over half a century, I would never send a fellow collector to a predator domicile. Just follow the advice above and you'll stay safe.
At first, eBay may be a bit intimidating to the new user, but after you get your feet wet, you'll realize how useful eBay can be to the coin collector.  Did I mention that eBay is also fun and easy, and for some folks, a bit addictive? Please note: If your next garage sale is filled with stuff you bought on eBay for no discernible purpose, that's a clue you've become a compulsive "eBayer"!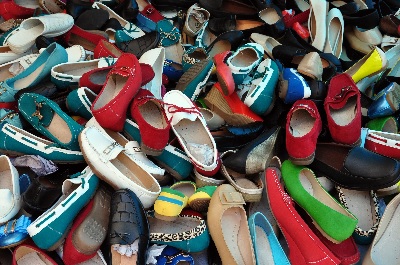 Temporary Setbacks

As has been stated several times, I believe if a collector strives to purchase properly graded key date coins with best-of-class price trend histories, they will attain two lofty objectives: (1) proudly own a numismatic legacy of high regard, and (2) realize much higher prices down the road, should the decision someday be made to sell. 
Does this mean once a quality key date coin has found a home in your collection, it will rise in value every year? No, it does not.  Like markets of all kinds, there is a give and take effect.
Even the best coins may suffer some cyclical flatlining or losses with no apparent explanation, only to rebound with another stretch of sustained price advancements. A typical cycle may take years to play out, but overall, prices are higher at the end of the cycle than at the beginning.
Let's study a trio of notable key date coins where price setbacks have been documented:
1793 Chain AMERI. Flowing Hair large cent: This coin has the recognition as the first regular issue released by the U.S. Mint. The chain reverse was meant to symbolize a strong bond between the states but was viewed by many as the opposite of liberty. Within a few weeks the chain was replaced by a wreath.(1) The chain variety is exceedingly rare and was sought by generations of collectors, reaching a value of $15,000 in Good-4 condition in 2005. Today, the same coin sells for $10,000.(2) Do not expect this historically significant coin to remain underpriced forever.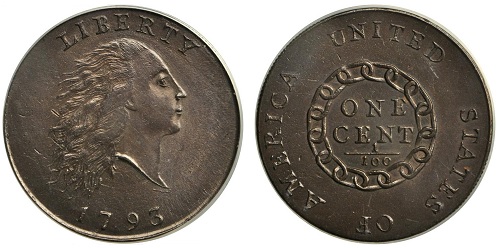 1893-S Morgan silver dollar: The 1893-S is one of the superstar key dates of the popular Morgan silver dollar series. Despite that label, this fantastic coin has practiced plenty of yoyo like behavior, at times losing up to 30% in value, only to move upward again, eclipsing previous highs.  In 2023, the 1893-S is selling for around $4000 in Fine-12, down 20% from $5000 in 2008.(3) Collectors who bought at its highwater mark will have to ride it out a bit longer, but can be confident in a value resurgence at some point, as has been the pattern for longer than any living person can remember.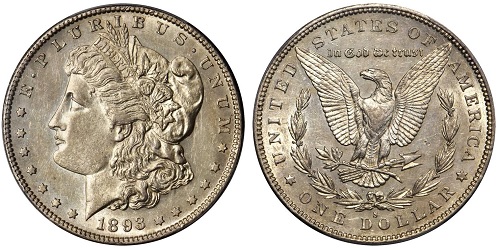 1873-CC Coronet half eagle: Coins from the Wild West days of the Carson City Mint are to the collector what a giant wave is to a surfer.  Riding near the crest of the "CC" love fest is the 1873-CC Coronet half eagle. Price trend records indicate it treads water for years (or sink beneath the surface), then suddenly catches a powerful rising tide.  In 2013, this gold rarity rose to $4500 in Fine-12 grade, only to recede to $2750 a couple of years later, followed by renewed vigor. In 2023, this venerable artifact of the pioneer days now stands at $6000.(4) There have been three similar cycles for the 1873-CC since 1950.(5)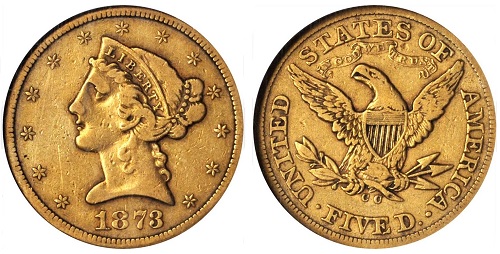 When you acquire key date rare coins, you have every reason to expect them to rise in value, higher and higher the longer you keep them. On occasion, there may be temporary price stalls or reversals, followed by a period of positive growth. Prepare to hang in there for the long haul and don't sweat any downturns.  Someday, you (or your heirs) will be rewarded for your foresight and patience. 
A Quick Word on Selling Your Coins
Now that we've spent some time discussing best places to buy coins, what do you do when it comes time to sell?

Wouldn't it be a shame to sell a valuable coin for, say, 40% of its worth, when had you known a little more, you could have gotten a much better price?

The good news is this: the advice detailed above to find trustworthy coin sellers can also come in handy when you, the collector, are seeking someone to buy your coins. Coin sellers who are honest and competent usually behave much the same way when they're buying coins as well.

Hobbyists who have low value coins to sell really ought to first consider eBay. Many professional dealers won't offer much, if anything, for a bag of common "Wheaties", but on eBay, something like that can sell fast (just do an eBay search for completed sales to confirm this).

Recently, a friend quickly sold nearly 100 dateless Buffalo nickels on eBay for 45 cents each. Easy, fast, and she got a decent price!
---
This is the final chapter in this section.
Use the links directly below to navigate the "Getting Started in Coin Collecting" section.

All the chapters referenced above are accessible from any other chapter in this section.  Thus, no need to return to the Getting Started in Coin Collecting Introductory page to link to other chapters.
---
1. Taxay, Don.  The U.S. Mint and Coinage.  New York, NY.  Arco Publishing, 1966.
2. Gibbs, William T., Managing Editor.  Coin World Domestic Values.  Sidney, OH.  Amos Media Company.  2023.
3.  Gibbs, Coin World Domestic Values.
4.  Gibbs, Coin World Domestic Values.
5.  Goevert, Daniel.  Value Trends of United States Coins.  Wichita, KS. Heritage Coin Books, 1987.